AVAILABLE PUPS/DOGS
click on photos to enlarge
---
NEW 2023

9 puppies: date of birth 1-14-23. Red Streak X Brandy.
Dark red they will hunt
2022
Redstreak x Rose, 9 puppies, 6 Female and 3 Male, Date of birth 8/1/2022.

Ben x Kate, 10 puppies, 5 Female and 5 Male, Date of birth 8/6/2022
Call or text to get on the list for next litter no deposit required.
931 261 1490
---
---
| | | |
| --- | --- | --- |
| | | |
| | | |
| | This puppy will be trained as a Guide Dog for my Daughter. She has an Uncle that is a certified Search and Rescue dog In N.C. | |
| | | |
---
---
---
UPCOMING LITTERS
Another litter coming soon.....reserve your pup now!
---
All of our breeders are good dogs and we have had them for their lifetime
---
We breed the best looks, intelligence, and personality. Our pups will usually please you. When better Redbones are bred, they are bred in Tennessee by COPELAND. If you want a GOOD dog call us. If you want a CHEAP dog call someone else.
Puppies are $600

$100 will reserve your puppy No deposit required

All puppies are born and bred on our 850 acre farm near Celina, Tennessee

Puppies must be picked up here, (at the kennel)

Come visit us anytime, you are always welcome

TO RESERVE A PUPPY SEND $100 TO 931 261 1490 CALL or Write JESSIE COPELAND, PO BOX 429, CELINA, TN, 38551

PUPPIES ARE USUALLY SOLD BEFORE THEY ARE BORN
---
Redbone Puppies - this pup is SOLD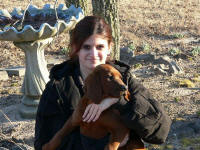 ---
Click on photos to enlarge
---

Grand Champion PR Copeland's Tennessee Cherokee (sire)

Grand CH PR Copeland's Tennessee Cherokee
Cherokee came in 5th in the breed in 2007
2007 UKC Performance Sire

---

The puppies shown below are typical of what our puppies look like. (Photos of the past)
1 male
2 male
1 & 2 males