AVAILABLE PUPS/DOGS
click on photos to enlarge
---
NEW
I have puppies
New puppies will be ready to go about Sept 10
7 females 2 males
---
2018 - March - I have half Redbone pups bred to run a blood track now ready for a new home. Half Redbone quarter Black Mouth Cur quarter Afghan Wolf Hound The sire is 100% on wounded deer. 300 each pick up here
Puppies Date of Birth 12/24/17 - 3 males
Puppies Date of Birth 12/31/17 - 5 females & 1 male
2017 - For sale Red Bone Pups-- Copeland Bolldlin
3 Males 2 females 500 each
Springfield Tn.
615 448 7090
Jerrid Traughber
---
2017 - Redbone Pups for sale
6 males 2 females
$500 each
Muskogee OK
918-616-2928
---
2017 - Red Bone Pups
Pups on the ground Date of Birth Jan 9 2017--- Copeland Bloodlines
Call Daniel L Howard Tellico Planes Tn. 1-423-561-0016
Mother and father are Really good Dogs
---
2016 - Pups from Ben and A Really good good female, owned by Johnnie Lanier
In VA, Born May 9 - 2016. All are healthy have had shots wormed and ready for pick up. Call Johnnie at 1-540-759-4288

If you are a hunter you can't do better than this Litter!!!!!!!!
---
2016 - Red Bone puppies now ready for their new home- Date of birth June 22, 2016
Call Judy Wright 423 534-4488-- or memee@gmail.com
Puppies are in Bristol VA - Puppies are owned by Judy Wright, Jessie Copeland Blood lines. Good Pups.
---
FOR SALE:

Redbones trained to run a blood track; Call Damon Knight 478-607-1164
I do not own or have any interest in these dogs.
---
---
---
---
UPCOMING LITTERS
Another litter coming soon.....reserve your pup now!
---
All of our breeders are good dogs and we have had them for their lifetime
---
We breed the best looks, intelligence, and personality. Our pups will usually please you. When better Redbones are bred, they are bred in Tennessee by COPELAND. If you want a GOOD dog call us. If you want a CHEAP dog call someone else.
Puppies are $500

$100 will reserve your puppy

All puppies are born and bred on our 850 acre farm near Celina, Tennessee

Puppies must be picked up here, (at the kennel)

Come visit us anytime, you are always welcome

TO RESERVE A PUPPY SEND $100 TO JESSIE COPELAND, PO BOX 429, CELINA, TN, 38551

PUPPIES ARE USUALLY SOLD BEFORE THEY ARE BORN
---
Redbone Puppies - this pup is SOLD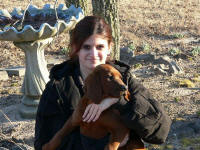 ---
Click on photos to enlarge
---

Grand Champion PR Copeland's Tennessee Cherokee (sire)

Grand CH PR Copeland's Tennessee Cherokee
Cherokee came in 5th in the breed in 2007
2007 UKC Performance Sire

---

The puppies shown below are typical of what our puppies look like. (Photos of the past)
1 male
2 male
1 & 2 males