TESTIMONIALS / HAPPY OWNERS
Click on photos to enlarge
---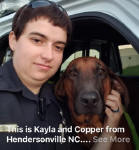 Kayla & Copper, C

opper a Certified Search and Rescue Dog he is out of my old Seet Ben
---

Mr. Copeland,
Attached are two pictures of Pete and me. I am so glad I found your website and got Pete four years ago, he is in all ways one of the family. We have always been amazed how his personality differs. When at home he is the sweetest, kind loving dog that snuggles with a teddy bear, yet when he is on the hunt he means business, foaming at the mouth and all!! I hope everything is going well.
Your Friend,
Colton
---

Female Champ Bench and Champ Conformation

Owned by Sean Thompson----Wisconsin
---
Hi Mr. Jessie and Mr. Fredrick,
I thought I would send you a couple of pictures of Dixie at a little over a year. She's wonderful! So wonderful, in fact, we would like another one! I was wondering if you all knew when you'd have any really big really red males available? She's so happy with other dogs around, and we love her sweet personality so much we would love to have another coonhound.
Hope you both are doing well,
Karla and Matthew
---

Hey Jessie,
Just wanted to give you a follow up and see how everything was going with you. Cope turned 1 at the beginning of this month and he is doing great. He loves the outdoors and going on hunts. He has been around my lab so long, he believes he is a duck dog - I can't keep him out of the water. He has grown so much over the past year its completely unbelievable, 90 pounds to be exact. Well just wanted to show you he is doing well and we appreciate the great dog. Hope all is well with you.
Best Regards,
Dusten
---

Here are some photos of our trip. I really like the one of Ryan looking up the tree............

Allen F.
---

Hello Jessie,
It has been awhile sense I sent you any pictures of Duke. He will be three years old in July. He is a wonderful specimen. When people see him they say he is the most beautiful Redbone they have ever seen. He is a big boy but is so well behaved. He goes crazy when he get a on a coon. We have not had him out in the field except just here on our property. He loves riding in the back of Rich's pickup and follows him everywhere. We love him and want to thank you for him. Oh his has fathered one litter of pups that were just awesome. Again thank you for Duke. Blessing, Pam C
---

'PR' GRAND RIVER'S OK RED CHIEF Owned by Marissa Turner
Near Tulsa Ok----- he is winning big in the shows
From Chatcow and Sallie
---



This is Scott Cunningham. I came from PA in March 2009 with my wife and young son to buy one of your redbone puppies. I got a male pup out of Cherokee and Redstar. We just wanted to update you on how he is doing. We call him Jake. Right now I use him for pleasure hunting, but plan on taking him to some night hunts. I recently took Jake to our first bench show and he won best of class and breed. I didnít plan on getting into competitions, but since he did well, I plan on giving it a go. He is an excellent dog with our son. We are very pleased with Jake. Photos: ĎPRí Cunninghams Jolly Red Jake. Owned by Cunningham in Pa
---
Breeder of quality Redbone Coon hounds, UKC registered, hunt and show quality. Puppies available most of the time. Excellent pets, pleasure hunting, show, or hunt competition. Jessie Copeland 931-243-2674 night 931-243-2174.